Arizona Royal Landscaping and Design emphasize and target every project with the concept of a 'Master Plan'. Forethought is given to all aspects from the pool and spa placement to the growth allowances necessary as trees and plants mature. In new construction homes, this is the time that is critical. We will sit down with you, listen and review what is most important to you. We will listen to your needs and understand what is most important to you so we can offer the best consultative advice helping you to make the decision that is right for you. Once we understand your needs we will develop your very own 'Master Plan' that includes a 3d rendering of a finished project.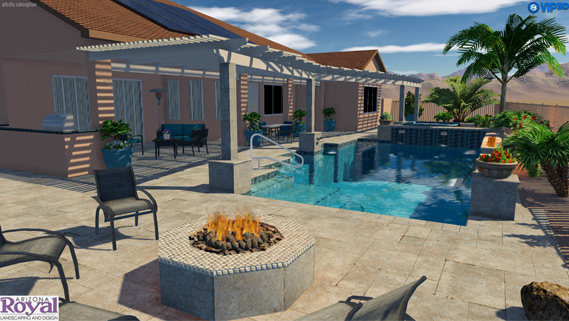 Actual Project Photograph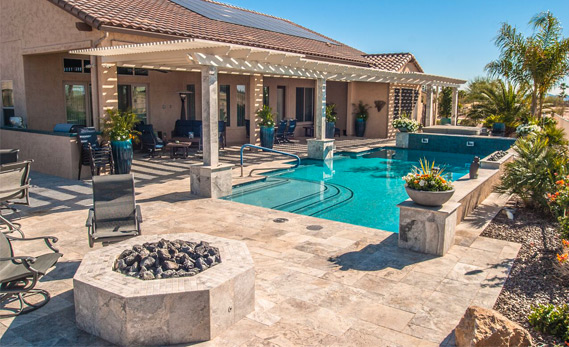 BUILDING CUSTOMERS FOR LIFE
We understand that for every project there is a budget. We never want to jeopardize the integrity of your project and 'cut corners'. Therefore, we have streamlined processes and procedures to assist in offering top quality products at competitive pricing. Let us show you the difference today…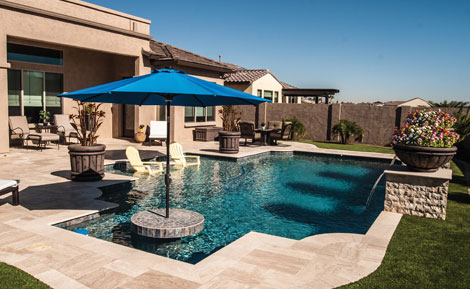 CONSULTING
Our approach is simple. WE LISTEN then CONSULT! We do not try to sell you on things. We simply gather your wish list, consult with you regarding your options and bring up any concerns we might have. We let you decide what is important and what is not. Most importantly we work within your budget to deliver solutions. Give us a call today, experience the difference!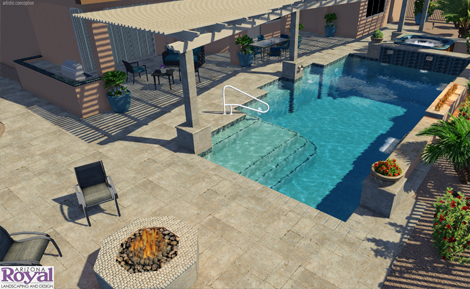 DESIGN
We know that the key to customer satisfaction is listening and understanding your specific needs. From the first consultation and initial design to the product selection and installation, we provide all the elements needed to make your dream outdoor environment a reality. With innovative software we will prepare a 3d Rendering so you can actually see what your new paradise will look like.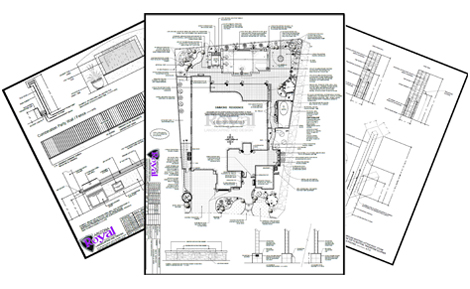 Prepare CAD Construction Documents
Once all our T's are crossed and I's are dotted, we will prepare detailed construction plans and start prepping for your project to begin.   From  creating specs and submitting for engineering plans, to City Permits and HOA authorizations, we work with you to make this process as easy as possible.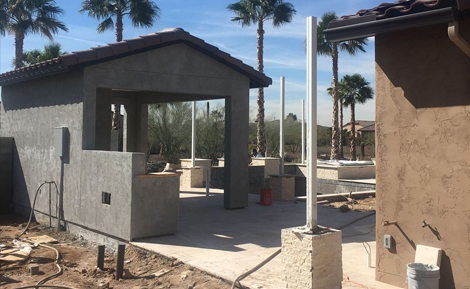 Construction
There are several stages required to implement a successful project. We believe communication is key and will inform you through all stages of construction of what to expect next. From product selection to your preconstruction walkthrough and weekly updates our processes and procedures have been developed with one thing in mind; provide a quality project with superior customer service. Never hesitate to ask questions, we want you to feel comfortable your project is in good hands.
Orientation
Once your new outdoor environment is complete we will schedule an orientation with you. This is where we will review all the warranty information, hands on training on products and equipment, and walk your project to identify any concerns to get corrected.